Event posted by

Nea Pakarinen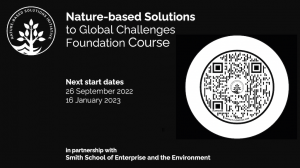 Monday, 26 September 2022 -

0:00

to

23:45 (Europe/Brussels)
Source: Nature-based Solutions Initiative
Why nature-based solutions?
Nature-based solutions are emerging as an integrated approach that can help address the causes and consequences of climate change at a relatively low cost, whilst delivering multiple benefits for people and nature.
They have gained much traction in business and policy over the past two years, but there is confusion about what counts as a nature-based solution and how they should be designed, implemented, financed and governed. As for the corporate sector, climate risk is no longer the only environmental risk receiving significant attention: EU financial institutions are increasingly required to report on both biodiversity and climate (e.g. Article 29, France), a clear sign of rapid shifts to come in the corporate regulatory landscape.
To address this, we are offering the Nature-based Solutions to Global Challenges Foundation Course to improve awareness and understanding of the science, policy, practice, financing and governance of nature-based solutions.
Who is this for?
Our course is for current and future public servants and leaders from the private sector and civil society. It will provide participants with knowledge that will enhance future work on nature-based solutions. We are initially offering this as an online course delivered over 8 weeks in September 2022 and again in January 2023. However, we are aiming to run it as a 3-5 day residential once it is safe to do so (e.g. September 2023).
The course is an introduction to NbS for professionals working in a range of sectors. For example, staff at NGOs from the development and environmental sectors wanting to better understand the evidence from research and practice on how NbS can deliver multiple benefits and for whom, to enable them to hold governments to account; business executives wanting to better understand the risks and also the opportunities of investing in NbS; civil servants, regulators, and investors working to develop policies that can enable economic recovery whilst supporting net-zero and biodiversity goals; and philanthropists wanting to support activities that have positive outcomes for both people and nature.
What is involved?
This 8-week online course will take place over 9 weeks to include a mid-course reading week. Each week will cover a critical theme around the science, policy, practice, governing and/or financing of NbS. There will be two sessions a week, each 1.5-2 hours long. The first of the two sessions with involve a presentation on the theory and evidence around a particular theme, followed by Q&A; the second, an interactive workshop (with break out groups) show-casing examples of the practice of NbS from around the world, highlighting good as well as bad practice examples related to the theme of the week. Presentations will be delivered and workshops facilitated by world-leading experts from Oxford University and beyond on the science, policy and practice of nature-based solutions and will draw on examples from a wide range of ecological, socioeconomic and political contexts from across the world. Attendance at all sessions is expected.