Event posted by

Pomeline Decott...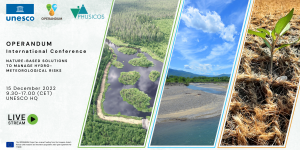 Thursday, 15 December 2022 -

9:30

to

17:00 (Europe/Brussels)
UNESCO HQ, Fontenoy Paris
On the 15th of December 2022, EU-funded projects OPERANDUM and PHUSICOS along with leading European researchers and experts will foster the dialogue on how Nature-based Solutions (NBS) enhance the resiliency of European rural and natural territories by reducing hydro-meteorological risks. Please join the following public sessions:
- Roundtable on Nature-based solutions in the EU environmental agenda (9:30-11.00 CET)
- Roundtable on Nature-based solutions in EU: Challenges and lessons learnt (11.30-13.30 CET)
- Information Meeting: Advancing the disaster risk reduction and climate change adaptation agenda: application of ecosystem services and nature-based solutions (14.30-17.00 CET)
The first discussion will focus on the Global and EU agenda regarding Nature-based solutions, touching on the science and policy gaps as well as the challenges of NBS implementation in Europe.
The following session will outlay the common sharing of best practices among NBS case studies owners and external stakeholders.
The final discussion will demonstrate the role of large-scale EU-funded NBS projects and give evidence for including Nature-based solutions in our response to societal challenges.