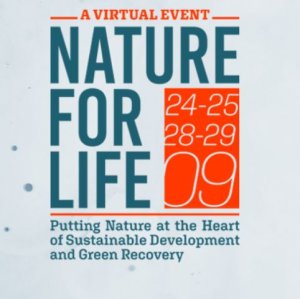 Thursday, 24 September 2020 - 0:00

to

Tuesday, 29 September 2020 - 0:00 (Europe/Brussels)
Nature for Life is a four-day conference hosted by UNDP, UNEP and CBD. Events will be broadcast live in the Nature for Life Hub, where you will also be able to catch up on sessions you've missed.
The themes of the four-day Nature for Life Hub reflect the essential systemic transformations we must see if we are to bend the curve on nature loss, including:
Recognising the value of nature in achieving the Sustainable Development Goals.

Greening our wallets in development, finance and business.

Creating a planetary response to our planetary emergency.