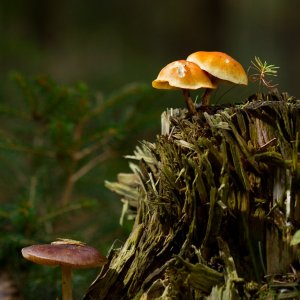 wildE is a new project funded by Horizon Europe that will develop climate-smart rewilding as a nature-based solution to the twin threats of climate change and biodiversity loss. 
The European Union has set out ambitious goals to combat the climate crisis and biodiversity loss. The EU Biodiversity Strategy for 2030 aims to restore significant areas of degraded ecosystems and to legally protect 30% of Europe's territory, with 10% under strict protection. In turn, the EU Climate Law legally binds the member states to become climate neutral by 2050. The EU goals imply that effective ecosystem restoration needs to occur at much larger scales than to date, yet this is still hindered by multiple barriers, including existing policies and governance structures, funding, and a narrow focus on biodiversity and ecosystems. 
Rewilding, an approach to landscape management with an emphasis on allowing ecosystems to evolve with little to no human intervention, has the potential to make a significant contribution to the EU goals. However, until now the approach has mostly been limited to local conservation initiatives scattered across the continent without a systematic consideration of aspects of climate change mitigation or adaptation. Climate-smart rewilding as developed by wildE aims to overcome these barriers by taking a more holistic approach that considers climatic, economic and societal challenges. This makes ecological restoration a financially viable nature-based solution which benefits public and private stakeholders. 
wildE unites experts from the environmental sciences, social sciences and economics to address climate-smart rewilding solutions. In-depth research at eight carefully selected sites across Europe and with a broad range of stakeholders will assess how such solutions can effectively support nature and people whilst being economically viable. Through the use of detailed surveys and models, wildE will evaluate the potential impact of rewilding on carbon and biodiversity, as well as its ability to help the EU achieve its climate, land use, economic and societal goals, today and in a warmer future. 
wildE will work closely with policy makers, local communities and companies to produce new insights, methods and tools for climate-smart rewilding. A new web platform, the Rewilding Knowledge Hub, will provide space for stakeholders to collaborate on rewilding challenges and opportunities.
To find out more, visit https://www.wilde-project.eu/ and follow @wildE