Event posted by

JGrunnill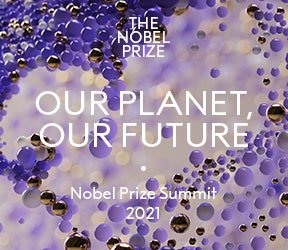 Monday, 26 April 2021

to

Wednesday, 28 April 2021
What can we achieve together in this decade to put the world on a path to a more sustainable, more prosperous future for all?
Each of us holds the power to help answer this question.
Become part of the solution.
Inspired by Alfred Nobel's belief in celebrating achievements that contribute "the greatest benefit to humankind," the Nobel Foundation, the U.S. National Academy of Sciences, the Potsdam Institute for Climate Impact Research and the Stockholm Resilience Centre/Beijer Institute invite you to engage in an optimistic exploration of the best version of our collective future. The first Nobel Prize Summit will convene talks from Nobel Prize laureates and conversations among experts from the science, policy, arts, and youth activist communities. It will bring together the world's brightest and most creative thinkers to focus on three key areas critical to the future of humanity:
Climate Change and Biodiversity Loss
Reducing Inequality
Technology's Power to
Transform the Way We Live and Work
Informed by lessons learned during the course of the COVID-19 pandemic, it is clear that solving these challenges must be guided by an inclusive vision for our shared future – one that is grounded in science and that safeguards our global commons.
Join the conversation at #NobelPrizeSummit