Event posted by

Aissa Traore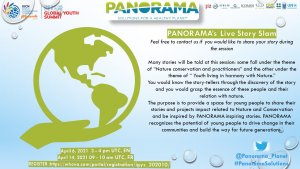 Tuesday, 6 April 2021 -

5:00

to

6:00 (Europe/Brussels)
PANORAMA will be hosting two storytelling sessions: the first in english and the second in french on "Youth living in harmony with Nature" at the International Union for Conservation of Nature (IUCN) Global Youth Summit aimed at bringing together youth for one nature and one future.
During the Storytelling sessions, you would know the story-tellers through the discovery of the story and you would grasp the essence of these people and their relation with nature.  Some stories fall under the theme of "Nature conservation and practitioners" and the other under the theme of "Youth living in harmony with Nature."
The purpose is to provide a space for young people to share their stories and projects impact related to Nature and Conservation and be inspired by PANORAMA's platform inspiring stories. PANORAMA recognizes the potential of young people to drive change in their communities and build the way for future generations.
Taking place a few months before the IUCN World Conservation Congress the Global Youth Summit will enable young people from around the world to connect, exchange ideas and experiences. A Summit Outcome statement will be delivered to the IUCN Members' Assembly in Marseille, France.
PANORAMA's Live Story Slam Event (English)
April 6, 2021, 3PM - 4PM UTC
                  -----------------------
PANORAMA's Live Story Slam Event (French)
April 14, 2021, 09AM -10AM UTC