Event posted by

Nea Pakarinen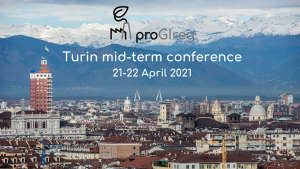 Wednesday, 21 April 2021 - 0:00

to

Thursday, 22 April 2021 - 0:00 (Europe/Brussels)
proGIreg's mid-term conference will take participants for a virtual journey through the proGIreg Turin Living Lab in Mirafiori Sud, explicating the successes and challenges of the regeneration efforts. Join the conference for a chance to learn how to harness nature-based solutions in post-industrial districts together with citizens.

proGIreg is funded by the European Commission under the Horizon 2020 programme and will run from June 2018 until 2023. ProGIreg stands for 'productive Green Infrastructure for post-industrial urban regeneration': nature for renewal. ProGIreg uses nature-based solutions for urban regeneration with and for citizens.

The dynamic conference will entail three virtual visits with a multitude of stakeholders, interviews, presentations discussions and debates to delve into the pioneering work of the Turin Living Lab.
Programme:
21st April Morning - 9:30AM
Introduction to Torino Living Lab
The first stop will be a school where a green wall and a raised bed garden have been made. The second one will be the "WOW space" where a green roof and a pollinator friendly garden with some beehives have been realized in an abandoned public building.

21st April afternoon - 2PM
Along the Sangone river
The first stop will be the "new soil" test site and the second will be the "Orti Generali" site where citizens rented gardens and community garden areas coexist. The route will take place along the Sangone River.

22nd April Morning - 9:30AM
In the factory block
The first stage will be the vegetable garden created in the courtyard of the association "Crescere Insieme Onlus" and the second the outdoor green wall created at a dormitory for the homeless. The route takes place in the block that includes the large Fiat plant in Mirafiori.