Event posted by

Nea Pakarinen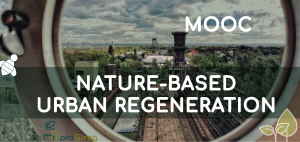 Monday, 3 October 2022 - 0:00

to

Monday, 5 December 2022 - 23:45 (Europe/Brussels)
Cities around the world are seeking new, greener ways to transform their former industrial districts. These urban regeneration areas suffer from social and economic inequalities, lack quality green spaces and are significantly more vulnerable to climate change effects and natural hazards. Nature-based solutions (NBS) can contribute to improving environmental quality, social life and local economies in urban areas.
This free course offered via edX will show you how co-creating NBS can create liveable and productive green urban environments for empowered local communities and boost entrepreneurial value chains.
You will learn the basics of NBS in urban regeneration and how to co-design them with diverse stakeholders. A set of specific NBS in the fields of circular economy, urban food production and climate change adaption will be presented in detail. You will learn about NBS benefits for environmental quality, human health and wellbeing, socio-cultural inclusiveness and local economy and labour market, and how to apply scientific methods for monitoring and assessing them. Business models for NBS implementation and management will help you to set up your own nature-based renewal projects.
The course draws on research results of EU Horizon 2020 Innovation Action proGIreg. Living Labs in three European cities are developing, testing and assessing innovative NBS and will transfer their knowledge to you. Contributions come from leading universities and research institutions, practitioners from municipalities, NGOs and industry in this field.