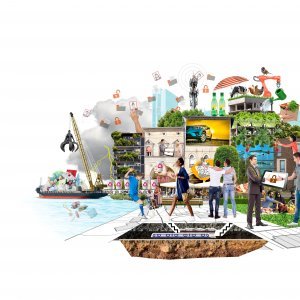 The Joint Programming Initiative (JPI) Urban Europe has updated its Strategic Research and Innovation Agenda (SRIA). The agenda will guide the activities and research priorities in the programme until 2026.
The JPI Urban Europe is an intergovernmental and strategic partnership of countries addressing the challenge of sustainable urban development through coordinated research and innovation. In 2015, JPI Urban Europe first published SRIA. Since then more than 70 projects have been funded, which have generated new insights, approaches and solutions to support sustainable urban development and drive urban transitions.
SRIA 2.0 considers new urban-related European and global policies, in particular the SDGs and the New Urban Agenda of UN Habitat. The strategic priorities of the SRIA 2.0 were identified in a comprehensive process with broad involvement of urban actors, researchers and policy makers and centre around the following core dilemmas:
Digital Transitions in Urban Governance: How can cities exploit the potential of rapid digitalisation for urban planning and governance while avoiding the risks of new inequalities and addressing the consequences for jobs, value chains and privacy?
From Resilience to Urban Robustness: How can cities get prepared for unexpected, non-linear events and at the same time ensure highest liveability for its inhabitants?
Sustainable Land-Use and Urban Infrastructure: How can cities answer the demand for densification and infrastructure provision under the constraints of scare resources, financial limitations, accessibility and affordability for all?
Inclusive Public Spaces for Urban Liveability: How can cities provide multi-functional public spaces that serve the purposes of all groups of society within the given ownership situations, stakeholder interests, security concerns or densification needs?
Download the Strategic Research and Innovation Agenda, SRIA 2.0