Event posted by

David Miko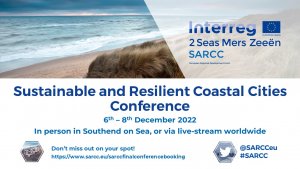 Tuesday, 6 December 2022 - 13:00

to

Thursday, 8 December 2022 - 14:30 (Europe/Brussels)
Southend on Sea and Online
The overall objective of SARCC (Sustainable and Resilient Coastal Cities) is to help mainstream nature-based solutions (NBS) into coastal management and policy making, whether that is as stand-alone projects or NBS-hybrids, where they are integrated into existing grey infrastructure and flood defences. The project builds the capacity of urban leaders, decision-makers and officers involved in coastal flood defences to deploy NBS and understand the additional benefits that they offer in comparison to traditional grey infrastructure.
With the project coming to an end in early 2023, we are excited to invite you to take part in our SARCC Final Conference this December, where we will provide a forum for information sharing regarding nature-based solutions (NBS) in coastal cities. The conference is free to attend in Southend on Sea, UK, however with limited spaces or opportunities for travel, the entire event will also be available as a live-stream online.
The conference will provide an overview of the SARCC project, detailing the outputs and results to disseminate results and address policy changes. It will include panel discussions with stakeholders involved in coastal management, provide opportunity to interact with our 14 project partners and learn about specifics of the pilot NBS trialled across the project countries of UK, France, Belgium and the Netherlands. 
Last but not least, we will cover an essential aspect of mainstreaming NBS - mechanism to positively engage local communities that will be involved in public consultations, highlighting the value/benefits of NBS to coastal communities and supporting the approval process for the investment into NBS.
On behalf of the SARCC partnership, we are looking forward to welcoming you this December!