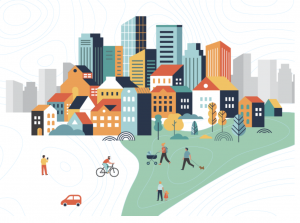 Tuesday, 28 November 2023 - 0:00

to

Friday, 1 December 2023 - 23:45 (Europe/Brussels)
The EU is supporting Ukraine to build a brighter future on a foundation of environmental sustainability – with funding but also with technical and legislative capacity. And we're preparing early, so that when the time comes, the complexity of the task does not prevent sustainability to be at the core of recovery.
In addition to supporting Ukraine's European perspective, a sustainable recovery and reconstruction is essential to guarantee Ukraine's prosperity, resource autonomy, and the quality of life of Ukrainians when the war finally ends. 
During a visit to Ukraine in February 2023, the College of Commissioners discussed with the Ukrainian government EU support to help Ukraine rebuild its cities in a high-quality, sustainable and inclusive way with the New European Bauhaus (NEB) community. This resulted in the PHOENIX initiative - a tailor-made combination of European Commission programmes, targeted to support Ukrainian policymakers and civil society for a green recovery.
The Conference aims to offer all key stakeholders a holistic approach to the green recovery and reconstruction of Ukraine. The goal is to take stock of concrete challenges and solutions to ensure environmental sustainability objectives remain at the centre of future investments and reforms in the years ahead.
The conference is split in 2 segments.
Policy segment
PHOENIX Conference (hybrid setting)
28-29 November 2023
This segment will focus on policymakers and civil society, setting out the overall challenges and addressing the main policy support measures to the green reconstruction of Ukraine to present the on-going implementation and the first concrete results of the PHOENIX initiative.
Business segment
Circular Economy Conference and business matchmaking
30 November –1 December 2023
This segment will provide a business angle to introduce specific, applicable solutions, discuss systemic barriers to the deployment of a more circular and greener economy, and connect companies from the EU and Ukraine.
The conference offers in-depth discussions and networking opportunities for policymakers, mayors, business actors, New European Bauhaus community and civil society.
Participation in person will be prioritised based on the order of registration to the Conference of respective participants.