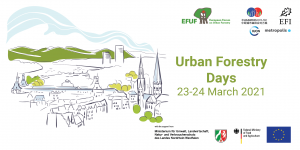 Tuesday, 23 March 2021

to

Wednesday, 24 March 2021
The European Forest Institute (EFI), the European Forum on Urban Forestry(EFUF) and the Horizon 2020 CLEARING HOUSE project invite you to two days of integrated activities on urban forestry (March 23-24 2021). This on-line event is targeted at advanced practitioners, established researchers, sector leading policymakers and those wishing to learn of the latest developments in Europe and beyond.  A special focus for this conference is Sino-Europe collaboration. The conference will be run in English with Mandarin translation.