Event posted by

Coline Laurent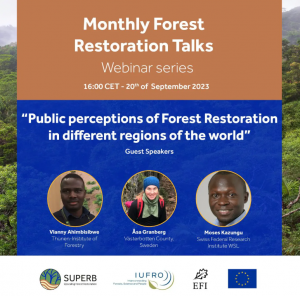 Wednesday, 20 September 2023 -

16:00

to

17:00 (Europe/Brussels)
The new Forest Restoration Talk organized as part of the SUPERB project in partnership with IUFRO will discuss public perceptions of Forest Landscape Restoration in different regions of the world.
The first speaker, researcher Moses Kanzungu (WSL), will present results from a study on public perceptions of forests they conducted as part of the SUPERB project. Moses comments: "While the perceptions remained consistent across the study regions, the interviews unveiled two distinct classifications of forests. On one hand, forests were recognised as intricate and multifaceted entities, embodying a sense of 'everything.' On the other hand, an equally compelling perspective emerged where forests were cherished as unique and isolated havens. This duality in perception provides a fascinating glimpse into how individuals perceive and connect with these vital ecosystems."
The second speaker is Vianny Ahimbisibwe (Thünen Institute), a specialist in land use potentials and ecosystem restoration in Africa. In a recent paper, he analysed the gap between restoration intentions and actual behaviours at the farm level. He emphasises that landscape implementers and facilitators need to work hand in hand for the effective implementation of FLR activities. Vianny will share experiences and lessons-learned from the FLESRA project, focusing on the performance of different silvicultural techniques, their cost-benefit structures and mismatch in actor values and beliefs in the FLR realm.
Finally, Åsa Granberg from the Västerbotten County Administration (Länsstyrelsen Västerbotten) in Sweden will share insights from SUPERB's Swedish demo, which she is leading as a project manager. In this demo, the local team fosters natural forest configuration and forest connectivity on a landscape scale, improving conditions for biodiversity and indigenous Sami community reindeer husbandry. Their landscape approach also addresses governance challenges linked to the multiple ownership of land, including public, private, forest company and non-industrial private ownership in large- to small-scale gradients.