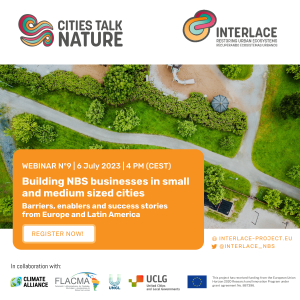 Thursday, 6 July 2023 - 16:00
As more and more cities' planning and strategies call for urban ecosystem restoration, sustainable urban drainage systems, and other blue-green infrastructure, business opportunities for nature-based solutions (NBS) are arising. Private sector NBS depends initially on market-creation through amongst others a mix of public regulation and procurement, public funding of pilot projects and certification schemes. The possibilities for starting a NBS business varies between cities and countries, but are generally more limited in small to medium sized municipalities.  
In this webinar, we heard from small and medium enterprises (SMEs) from Europe and Latin America who have succeeded also outside capital cities, sharing their successful projects and discussing barriers and enablers to their business and more generally to the NBS sector in their city and country. We then discussed how local governments can foster and facilitate business creation and innovation in the NBS sector to advance their own ecosystem restoration, local economic development, and sustainability strategies.
The webinar kicked-off the "CITIES TALK NATURE: Business Insights" series of webinars, that will dive deeper into the particular challenges and opportunities for NBS business, drawing from conversations with private businesses and public entities in the INTERLACE project partner cities, as well as topics that have arisen in previous meetings. We will invite start-ups in emerging markets in Latin American cities, as well as some more established NBS business in the EU.
Presentations & Speakers:
Introduction to "CITIES TALK NATURE: Business Insights" on NBS in small and medium cities
David Barton, Senior Research Scientist, Norwegian Institute for Nature Research (NINA)

Enabling NBS in Portoviejo,  Ecuador
Gustavo Gonzalez, GG&S Arquitectos

Enabling NBS in Belén, Costa Rica
David Borge, Blackwaters Engineering

Enabling NBS in Catalonia, Spain
Bet Mota, Naturalea

Discussant: enablers and barriers to small and medium NBS business
Grace YEPEZ, YES Innovation