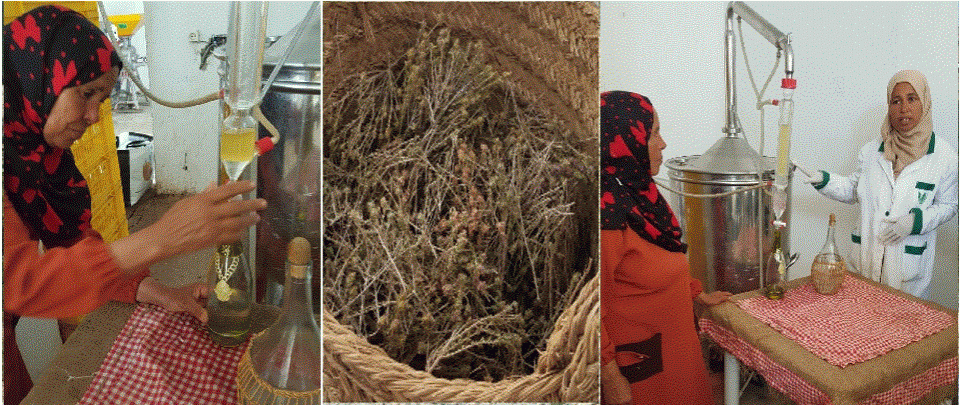 Source:
Personal communication outside INCREDIBLE events
Objective:
Identify drivers and barriers for developing the Tunisian Essential Oil market and new growth strategies to promote the sector and become more competitive in the international market.
Context:
Tunisia is endowed with vast resources of aromatic plants, particularly rosemary and myrtle in forest areas. Apart from the traditional ways of using these plants, many are exported as essential oils to industrialized countries. These products represent significant export opportunities, however many constraints have limited Tunisian exports, largely related to the weakness of the value chain and supply. Indeed different sizes of firms are operating in the essential oils sector but with varying profitability indicators (small firms are facing various difficulties compared with large firms).
Main results:
PESTLE analysis was employed to describe the external business environment of exporting firms essential oils in Tunisia. Results, therefore, show that controlling production costs still complex and difficult especially for small-sized firms. There are various problems regarding quality control and represent an important barrier to enter into the European markets. In addition, distribution channels are not organized with the presence of too many intermediaries. Besides, large firms are facing serious difficulties due to the lack of workforce. Moreover, the lack of advanced and specialized technology would reduce the competitiveness of firms. There is another important point regarding the legal framework: regulations are not rigorous enough to enhance the development of the AMP sector and represent an important barrier to all stakeholders along the whole value chain. Lastly, forest fire risk and bad practices in collecting plants present the major threats for the EO production and biodiversity conservation. It has been shown that specific firm characteristics influence also export marketing performance. Indeed, the larger the size of the enterprise the more likely it is to access the export market.
Main practical recommendations:
"National firms and large processing units should start grouping the small national and local production units. Firms could achieve better marketing performance by offering differentiated EO with high capacities to ensure requested quantities in time. Micro firms can benefit from strategic alliances by establishing direct contact with key distributors. SMEs can build long-term supply relationships and strategic alliances with specialized stores. Small producers of EO can get into the market by prospecting small industries such as aromatherapy and massage centers. "
Impacts and weaknesses:
Small companies should focus on the local market and commercialize their products using small packaging sizes in massage centers and specialized outlets. Small firms will not be competitive at the international market without providing a continuous production with stable quality.
Future developments:
Action is needed to reinforce the essential oils industry in Tunisia which deserves to gain bigger political support especially in the case of small firms and startup companies. Besides micro-firms should focus on the local market instead of the international market by improving their performance and reinforcing their presence in the Tunisia market.
Further information
Taghouti, Ibtissem, and Hamed Daly-Hassen. "Essential oils value chain in Tunisian forests: Conflicts between inclusiveness and marketing performance." Arabian Journal of Medicinal and Aromatic Plants 4.2: 15-41.