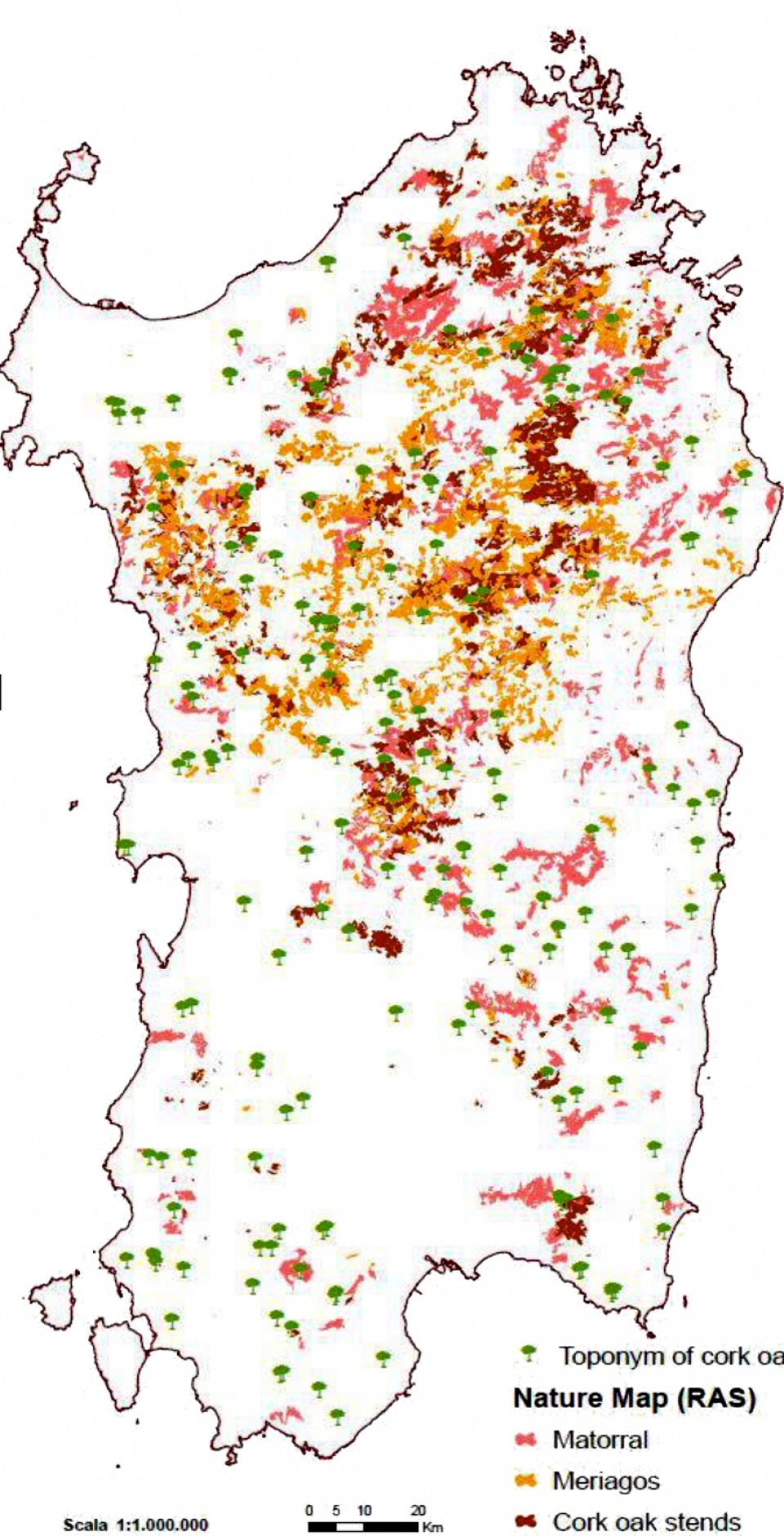 Source:
Personal communication in an INCREDIBLE event (interregional workshop)
Objective:
The work analyses the multifunctionality of cork oak forests and the benefits in terms of ecosystem services (CICES 2018, MAES 2017) in Sardinia. Supply, regulation and cultural services are assessed, also analysing identity, landscape, anthropological and historical aspects. The main factors that threaten the preservation of Cultural Ecosystem Sergices (CES) are taken into account. A set of actions and measures are proposed, consistent with identity and cultural values, for the recovery, conservation and enhancement of Natural and Cultural Capital of cork oak woods.
Context:
Mediterranean cork oak woods are anthropogenic formations, with high biodiversity levels, which contribute to the characterization and qualification of the Natural (CN) and Cultural (CC) Capital of the area. Analyses of the ES provided by Sardinian cork oak forests offer an opportunity to reflect on how to implement their sustainable management. The authors propose a multidisciplinary approach for CES, which are less studied due to their complexity, aimed at collecting available data starting from the analysis of archives and databases providing quantitative and qualitative data.
Main results:
The analysis of ES belonging to the Provisioning, Regulation, Maintenance and Cultural categories, allowed the identification of 34 ES classes provided by Sardinian cork oak stands: 11 relating to Supply, 12 to regulation and 11 to CES. Regarding CES, there were:
1. Over 200 phytotoponyms referring to cork, cork oak and cork woods.
2. Over 10 Municipalities that showed the cork oak tree in the municipal coat of arms.
3. About 60 cork trees marked as monumental in regional databases.
4. Over 2480 studies and academic publications on cork oaks.
5. 251 records in the regional Inventory of cultural heritage, related to artefacts of ethno-anthropological interest made entirely or in part of cork.
6. A "Sugherete Galluresi" landscape included in the National Register of Historic Rural Landscapes
Main practical recommendations:
International and national policies, guidelines, financial instruments, forestry and agroforestry local management plans, must be updated taking into account the ES provided by cork oaks woods, including Cultural E.S.  Different types of interventions and in different fields are urgently needed to maintain these values:
-  Study and research: e.g. documentation, training and study centres, developing thematic databases.
-  Training: knowledge transfer on traditional practices in order to have skilled and specialized workers for cork extraction, creation of handicrafts, innovative works and new product development.
-  Conservation and enhancement of cork oak stands and CES related to cork.
-  Inclusion of CES in integrated forest management planning and practice.
Impacts and weaknesses:
The ES of Cork oak woodlands are currently threatened as they depend, not only on the conservation status of the woodlands, which is unfavourable and worsening throughout its natural range due to a number of reasons, but also on a complex system of traditional practices that have undergone, and still suffer from, a rapid erosion process. For Cultural Ecosystem Services, which have a great identity and economic value for the regional communities, the problem is exacerbated by the fact that they are rarely taken into due account, because of the difficulty of their quantification, and the number of multidisciplinary studies and analyses required for their evaluation.
Future developments:
Further multidisciplinary studies and sustainable management practices must guarantee the improvement of the conservation status of cork oak stands, reducing fragmentation, improving site conditions from a quantitative and qualitative point of view, ultimately, together with the measures previously indicated, preserving and implementing the numerous and important ecosystem services provided by cork oak forests.
Organisation:
Agenzia Forestale Regionale per lo Sviluppo del Territorio e dell'Ambiente della Sardegna (FoReSTAS)
Figure 2: