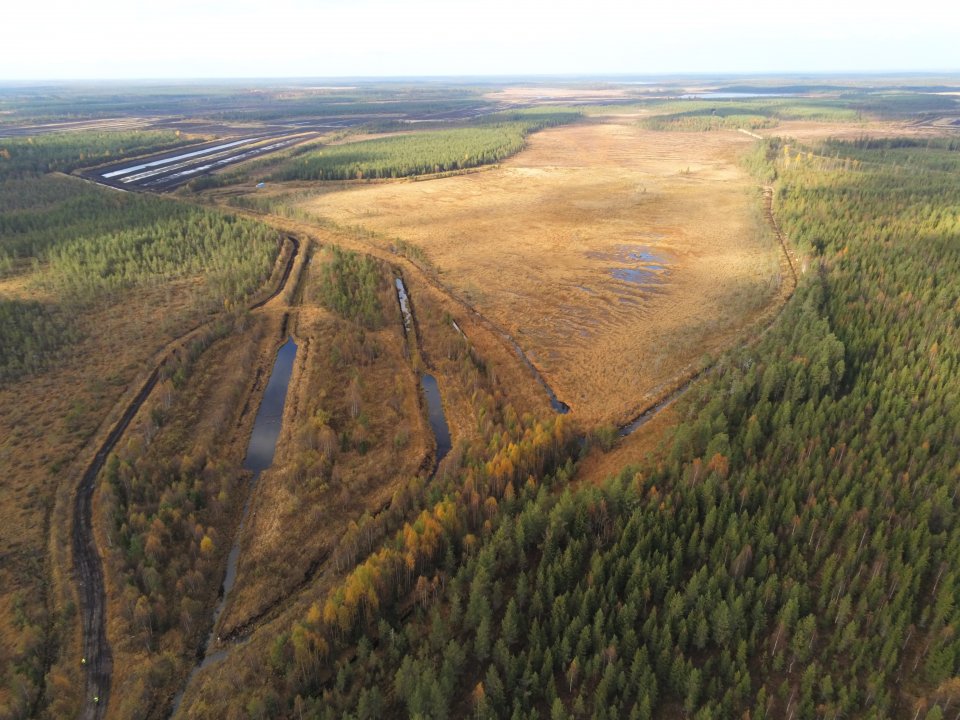 Area characterisation:
There are vast areas of intensive forestry and agriculture as well as large peat extraction areas in the North of Finnland and around the location of the case study. This leads to changes in hydrology and morphology of the landscape due to draining of peatlands and modifying natural land covers, affecting infiltration, evaporation, run-off, groundwater and surface waters. There is some scattered settlement throughout the region, and in the lower parts of the rivers, more urban areas. In and around the river Iijoki, various restoration actions have been implemented. Now, additional restoration frameworks and activities are planned in Iijoki and Oulujoki catchments.
Objective:
After peat extraction in the Komppasuo bog, Finnland, was initiated in 1987, it was stopped in 2021 and restoration projects are aiming at bringing the landscape back to a functioning and sustainable ecosystem. The objective is to establish wetland conservation areas from previously drained peatlands, to set up constructed wetlands for water purification, increasing water quality, increasing the amount of suitable habitats for migratory fish and the endangered freshwater pearl mussel (Margaritifera margaritifera) as well as increasing the areas suitable for recreation.
This case study is one of 17 that are part of the EU Horizon2020 project MERLIN - Mainstreaming Ecological Restoration of freshwater-related ecosystems in a Landscape context: INnovation, upscaling and transformation.
Actions:
rewetting of former peat extraction areas
restoration of drained peatlands
setting up constructed wetlands for water purification
environmental flow applications
new practices in forestry and agriculture
Potential impacts/benefits:
increased carbon sequestration
reduced carbon emmission
increased biodiversity / protection of highly specialized, rare species that depend on functioning wetlands
increased recreational value
NBS benefits
Increase infiltration / Water storage
Reduce run-off
Carbon sequestration and storage
Restoring ecosystems and their functions
Increase achievements of biodiversity targets
Increase awareness of NBS solution & their effectiveness and co benefits
Social inclusion
Sustainable Development Goals
6. Clean Water and Sanitation
7. Affordable and Clean Energy
12. Responsible Consumption and Production
13. Climate Action
14. Life Below Water
15. Life On Land