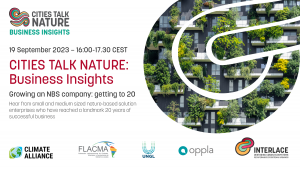 Tuesday, 19 September 2023 -

16:00

to

17:30 (Europe/Brussels)
Join us on 19 September 2023, as part of the CITIES TALK NATURE: Business Insights series, as we hear from small and medium sized nature-based solution enterprises who have reached a landmark 20 years of successful business. Together, we will explore the barriers they overcame, the innovative solutions they adopted, and essential policy recommendations to ensure the continued growth of the NBS sector.
In this webinar, we will answer the following questions:
What barriers have NBS SME's 'millennials' overcome to reach 20 years of successful business? 
What solutions have the adopted to grow their NBS business the last 20 years? What can NBS start-ups learn?
What policies are needed from government to create continued market conditions for NBS?
Sharing their experiences and expert advice, will be: 
Adriana Maria Lopera - Commercial director of INGEAGUAS SAS, with more than 30 years of experience in water treatment.
 Sara Perales  - Founder, Director and Delegated Advisor of Green Blue Management (Grupo TYPSA), with more than 20 years experience specialized in efficient management of water and nature based solutions such as Sustainable Urban Drainage Systems (SUDS).
David  Barton - Senior Research Scientist, Economics of Ecosystem Services, Norwegian Institute for Nature Research (NINA)
This webinar is part of the CITIES TALK NATURE: Business Insights series of webinars. Each webinar in the series will feature successful small and medium enterprises (SMEs) from Europe and Latin America based outside capital cities. Businesses will be sharing their successful projects and discussing barriers and enablers to their business and more generally to the NBS sector in their city and country.
Don't miss this opportunity to gain valuable insights from successful NBS SME's 'millennials'! Learn from their experiences and be inspired on your own nature-based solutions business journey!  
---
By registering for the webinar, you confirm that you have read and agree to Cities Talk Nature's DATA PROTECTION and CONSENT FORM.
Al inscribirse en el seminario web, confirma que ha leído y acepta el FORMULARIO DE CONSENTIMIENTO Y PROTECCIÓN DE DATOS de Cities Talk Nature