Event posted by

Ciaran McNally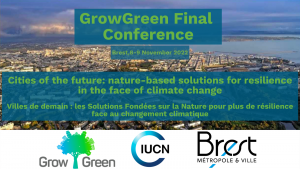 Tuesday, 8 November 2022 - 0:00

to

Wednesday, 9 November 2022 - 23:45 (Europe/Brussels)
Oceanopolis, Brest, France
GrowGreen is hosting its final event " Cities of the future: nature-based solutions for resilience in the face of climate change", on 8th and 9th November in Brest, France.
Urban nature-based solutions (NBS) have proved to generate multiple benefits, to the environment, the economy and to society, while increasing the harmony between people and nature. As the evidence base on the role and benefits of NBS grows rapidly, these solutions are featuring with increasing prominence in global climate change policy, stressing the importance of their implementation in urban environments.
GrowGreen has worked to create climate and water resilient, healthy, and liveable cities through investing in NBS. By making nature part of the urban living environment, GrowGreen has helped transform urban ecosystems and the quality of life for citizens across the world, in partner cities of Manchester (UK), Valencia (Spain), Wroclaw (Poland), Brest (France), Modena (Italy), and Zadar (Croatia), including collaborations with Wuhan (China).
The work carried out by the GrowGreen cities under the project has generated extensive knowledge, best practices and lessons learnt on the implementation of NBS in different urban contexts. During the final GrowGreen conference, partner cities of the GrowGreen project, as well as sister projects on NBS for water and climate resilience, will share the success stories of their effective interventions,  the lessons learnt and challenges encountered. The event will provide opportunities to engage in discussions on how to scale up NBS, exploring strategy development processes, innovative planning, governance and financing.
GrowGreen invites cities representatives, local and regional authorities, practitioners, business representatives, policymakers and local stakeholders to join the event and seize opportunities for learning, networking, and capacity building.
The first day of the event is open to the public and will include plenary as well as parallel sessions. During the morning of the second day, NBS sites visits will be organised (limited availability).