Event posted by

Susanna Gionfra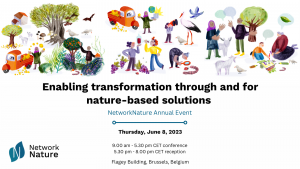 Thursday, 8 June 2023 -

9:00

to

20:00 (Europe/Brussels)
As NetworkNature comes to an end and prepares the ground for the next chapter, NetworkNaturePlus, the Nature-based Solutions (NbS) community comes together once again to discuss the transformative nature of NbS. 
Join us on 8th June 2023 at the Flagey Building in Brussels, Belgium!
Through interviews, presentations, panel debates and interactive sessions, we will see how NbS benefits reach across sectors and communities with their transformative potential. We will also discuss which transformations are needed in policy, in the economic and financing sector, and in science and practice to mainstream NbS. You will get to know the creative side to NbS and learn more about the products NetworkNature has to offer to policy makers, practitioners and businesses to see more NbS on the ground. You will find out about different EU-funded NbS projects and have time to network.
This NetworkNature Annual Event is open to the public, and aims at reaching audiences that go also beyond the European the NbS community. We warmly invite policy makers, scientific experts, civil society, investors and financing institutions, infrastructure planners and builders, landowners and natural resource managers, as well as anybody who involved or interested in NbS. If you or are new to the topic and joining from other sectors, such as climate, health, economy and society, we look forward to welcoming you and hearing about your perspective.
The event will conclude with an evening reception open to all attendees.
Prior to the event (on 7th June afternoon) and after the event (on 9th June morning), attendees are invited to participate in site visits to nature-based solutions in Brussels and Antwerp (sites to be determined).
Registration to the Annual Event and agenda are available here.
Additional NetworkNature activities
Contributing to the NbS marketplace…
On the 7th of June from 15h30 to 17h00, NetworkNature will host a marketplace in the same venue. While having some coffee, attendees of NetworkNature Annual Event are invited to expose their poster about their NbS initiative, project, business model, etc. This is a unique opportunity to share information about your work on NbS! The marketplace will remain accessible also during the NetworkNature Annual Event. You can register to contribute to the marketplace here.
Participating to the NbS Taskforces Cluster Meeting…
On 7th June, NetworkNature will host the NbS Taskforces Cluster Meeting (open only to Taskforces members and EU-funded NbS projects). Registration for this event is provided separately.
Participating to the "Nbs and your business" workshop…
NetworkNature is organising on 7th June a hands-on workshop for micro, small or medium-sized enterprises interested in NbS, where you get to work on NbS and respective business models together with experts in this field. More information is available here.
Gathering the NbS Hubs...
NetworkNature is organsing on 7th June a NbS Hubs Day gathering all NbS Hubs representatives to engage in discussions and explore ways of working and collaborations. The event is closed and by invitation only.