Event posted by

claragrimes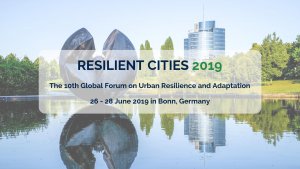 Wednesday, 26 June 2019 - 9:00

to

Friday, 28 June 2019 - 18:00 (Europe/Brussels)
Gustav-Stresemann-Institut, Bonn, Germany
Launched in 2010, ICLEI Resilient Cities is today the leading platform for local governments and
experts to discuss the latest developments in local resilience. To celebrate its 10 th anniversary,
Resilient Cities 2019 will feature crucial topics such as resilience planning, nature-based solutions,
governance, the social dimension of resilience, and many others. Additionally, the Congress will offer
two parallel tracks on financing resilience and resilient food systems, as well as five site visits and a
new ICLEI-powered city-business collaboration accelerator, CiBiX © .
Join Resilient Cities' 10 th anniversary on 26-28 June in Bonn, Germany!