Event posted by

Laurine Moncorps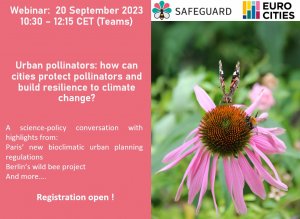 Wednesday, 20 September 2023 -

10:30

to

12:15 (Europe/Brussels)
The Horizon project Safeguard is happy to invite you to an online webinar: "Urban pollinators: how can cities protect pollinators and build resilience to climate change? " on September 20. This event will be online from 10:30 to 12:15 CET.
The webinar will help provide keys for city managers to optimise co-benefits for pollinator conservation and climate through urban greening and highlight best practices.
The key questions that will be explored are:
* What is the effect of heat on urban pollinators?
* How can urban greening plans integrate better these issues and create synergies climate adaptation/ resilience of pollinators?
* Perceptions: willingness of citizens to undertake pollinator conservation actions/ pollinator behaviour
* Nature based solutions: synergising climate and biodiversity
 
Join us! This event is organised by the Institute for European Environmental Policy (IEEP) and IUCN Europe in the context of the SAFEGUARD project.