Event posted by

Anonymous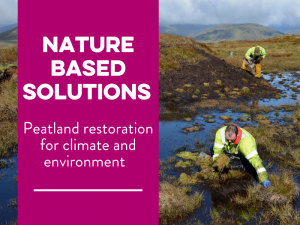 Tuesday, 21 September 2021 -

14:00

to

15:00 (Europe/Brussels)
Scotland House Brussels, in partnership with ICLEI Europe, is delighted to invite you to the next in our series of 'Road to COP26' events. With the UN Decade of Ecosystem Restoration in mind, this event will focus on the challenges and opportunities ahead for scaling up peatland restoration.
Although they cover less than three per cent of global land surface, estimates suggest the peatlands contain twice as much carbon as the world's forests do – making them the world's largest terrestrial organic carbon store. When in good condition, peatlands provide a range of important ecosystem services in addition to carbon storage, such as supporting unique biodiversity, maintaining water quality and helping flood prevention. In a degraded state - as is the case for a huge majority of peatlands across Europe - these positive effects are reversed, and they can become sources of carbon emissions instead of sinks, contributing to climate change, rather than mitigating it.
With an exciting list of speakers lined up, this event will shine the spotlight on international and local approaches to peatland restoration. In the context of the impending proposal for an EU Nature Restoration Law, and global focus on the upcoming COP15 and COP26 events, speakers will showcase examples of effective peatland restoration in Scotland and the EU and consider how to scale up delivery.
Speakers:
Francesca Osowska, CEO, Nature Scot
Anne Tolvanen, Director of the Climate Smart Carbon Cycle Research Programme, Natural Resources Institute Finland
Stefan Leiner, Head of Unit Biodiversity, DG Environment
Dianna Kopansky, UN Environment Programme Global Peatlands Initiative
In discussion with:
Andrew Millar, Chief Scientific Advisor for Environment, Natural Resources and Agriculture, Scottish Government